Snow White and the Seven Dwarfs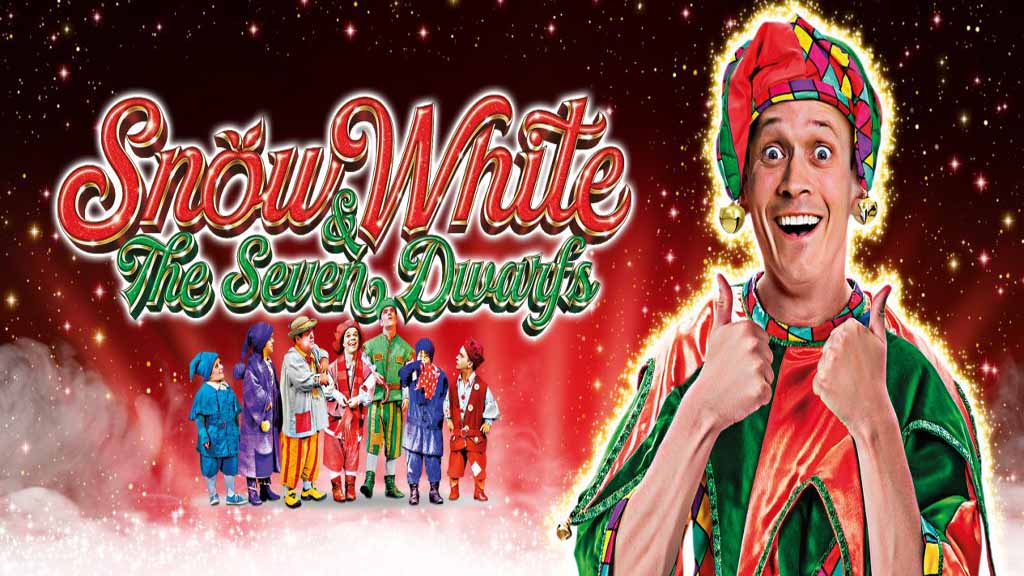 The Grand Theatre Blackpool
Friday 3rd December 2021 to Sunday 2nd January 2022.
Martin Dodd for UK Productions in association with Blackpool Grand Theatre presents Snow White and the Seven Dwarfs.
Mirror, Mirror on the wall… What's the greatest panto of them all? Snow White and the Seven Dwarfs at Blackpool's Grand of course…
Grand Panto favourite Steve Royle (Britan's Got Talent, Comic, Presenter) returns as Muddles, to make his annual appearance. Full star cast to be announced…
Join us for the greatest magical pantomime ever told, poor Snow White is doomed to live unhappily ever after with her horrid stepmother the Wicked Queen. In true rags-to-riches style, Snow White manages, with the help of her madcap friend Muddles, to meet a handsome Prince and make her dreams come true.
The Blackpool Grand Theatre pantomime will burst with great songs, stunning dance routines and plenty of laughter, this is a truly magical treat for all the family you won't want to miss!
Blackpool audiences are guaranteed a year of spectacular sets, dazzling costumes and side-splitting comedy, produced by Martin Dodd for UK Productions in association with Blackpool Grand Theatre.
This festive extravaganza is on sale now so book your seats today to see Blackpool's must-see Christmas show in 2021/22.
The Blackpool Grand Theatre 2021/22 pantomime, Snow White and the Seven Dwarfs is presented by Martin Dodd for UK Productions whom have been presenting the Christmas pantomime at Blackpool's Grand Theatre since 1996. Other productions presented at The Grand by UK Productions include; Legally Blonde the Musical, Disney's Beauty and the Beast The Musical, The Kite Runner, 42nd Street, South Pacific, Carousel, Fiddler on the Roof, Oklahoma!, Seven Brides for Seven Brothers and Anything Goes.
Don't miss our spectacular, fun-packed, family pantomime, Snow White and the Seven Dwarfs! The unmissable family pantomime.
So Heigh-Ho… Heigh-Ho… It's off to Blackpool Grand's panto we go!
---
Alladin The Pantomime
Fleetwood Marine Hall
Thursday 9th December to Sunday 12th december 2021.
Trio Entertainment return this Christmas after the huge success of "Cinderella" to make all your wishes come true with our magical Christmas pantomime "Aladdin".
Tricked into going into the cave of wonders by the evil Abanazar, Aladdin finds himself trapped in a cave with nothing but a dirty old lamp and no way out.
When Aladdin rubs the lamp a magical Genie appears to save the day and rescue him from the cave and grants him three extravagant wishes …
Join the hilarious Aladdin who joined by his wacky washerwoman mother Widow Twankey along with the beautiful Princess Jasmine, her guardian the crazy but strict police chief and a magical spirit to guide our hero along the way on this magical carpet ride of a pantomime!
Click here for more informatuion.
Our Relaxed Performances are designed to create an enjoyable and relaxed atmosphere for anyone who would benefit from a more laid-back experience at the theatre.
During the show subtle changes are made to the sound and lighting effects and the auditorium lights remain on. Audience members are also free to leave the auditorium at any point during the show if they need to take a break from the action
---
The Blackpool Opera House production of Cinderella due to run from December 12th 2021 is cancelled and we currently have no information on a replacement Pantomime.
---
For advice and information on getting to Blackpool and car parking in Blackpool call 01253 478222